ArtsHab One & Friends Holiday Studio Sale 2012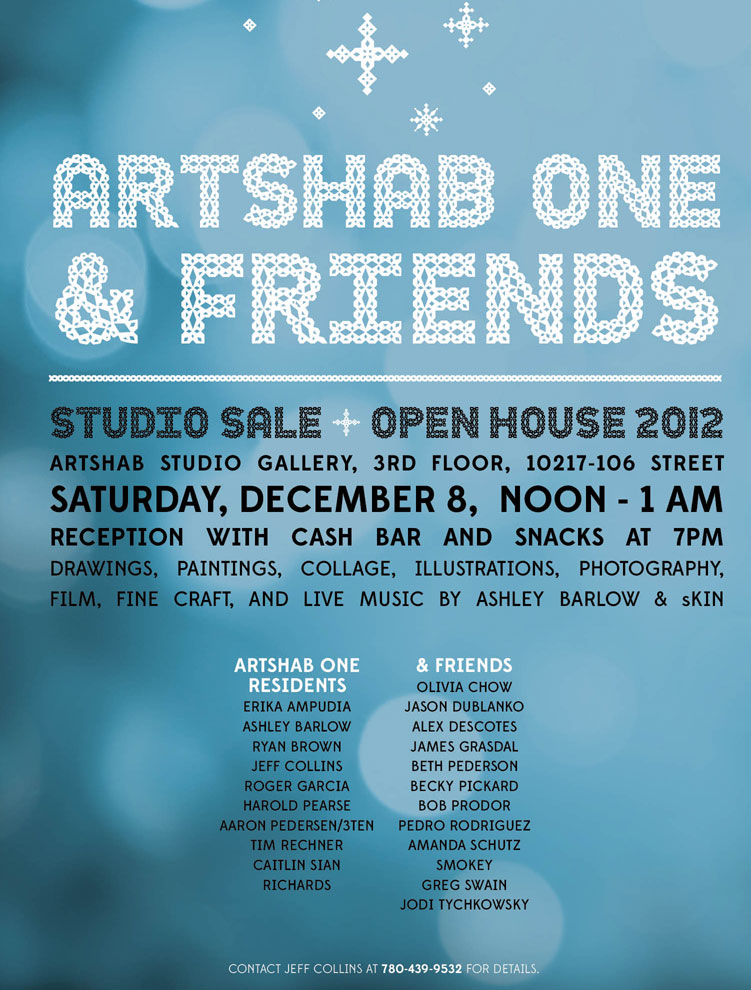 Saturday, December 8, 2012
Noon – 1 am
Reception featuring Live Music, starting at 7pm
Come meet over 21 of Edmonton's contemporary artists and visit inside some of the studios of ArtsHab One. The studios open at noon on Saturday, December 8, 2012 where you will have the opportunity to enjoy and purchase original drawings, paintings, collage, illustrations, photography, film and fine craft.
Later on in the evening some of the resident musicians will put on performances and a fun social time is sure to follow.
Reception, featuring live music, homemade snacks and cash bar will get underway at 7pm.
Contact: Jeff Collins 780-439-9532
ArtsHab One Residents:
Erika Ampudia
Ashley Barlow
Ryan Brown
Jeff Collins
Roger Garcia
Harold Pearse
Aaron Pedersen/3TEN
Tim Rechner
Caitlin Sian Richards
Live Music by:
Ashley Barlow
sKiN
Friends:
Olivia Chow
Jason Dublanko
Alex Descotes
Bob Prodor
Becky Pickard
Amanda Schutz
Pedro Rodriguez
Smokey
Greg Swain
Jodi Tychkowsky
Beth Pederson