Arts Habitat Celebrates Opening of Artists Housing Cooperative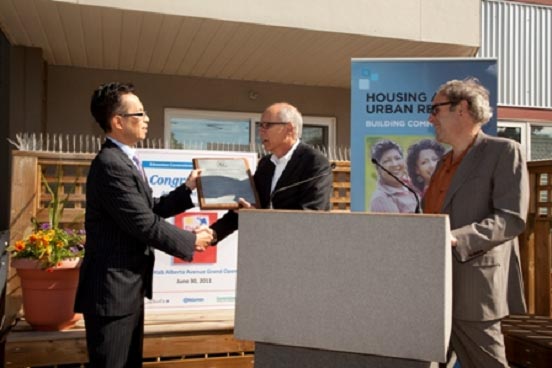 Arts Habitat Association Chairman David Tam accepts a dedication plaque from Mayor Stephen Mandel as Councillor Ben Henderson, Council's co-lead on Housing, looks on.
June 30, 2011
On June 30, 2011 Arts Habitat Association of Edmonton along with partners Edmonton Inner City Housing Society and Artists Urban Village celebrated the official opening of ArtsHab Alberta Avenue. This 16-suite project is a new cornerstone in the arts-led revitalization of 118 Ave. The co-op will allow artists to live and work in a dynamic community that is highly motivated to support the arts. The completion of this development is a source of pride for Arts Habitat Association, whose goal is to provide safe, affordable and appropriate living and working space for artists and arts organizations.
ArtsHab Alberta Avenue (or ArtsHub 118) is our second residential project. ArtsHab One opened in 1999 and continues to be a flagship model of an artist live/work studio community, home to some of Edmonton's most active contemporary artists of many media. Arts Habitat is also redeveloping the Cycle Building, located beside ArtsHab Alberta Avenue, into a multi-discipline arts facility that will ultimately include artist studios, offices, a small black-box theatre and a community cafe.
The City of Edmonton and the Government of Alberta funded ArtsHab Alberta Avenue through the Cornerstones Affordable Housing Program. The project was funded to help increase the supply of local affordable housing and help the City of Edmonton and the Alberta Avenue community in their joint efforts to revitalize the 118th Avenue area.
In 2008, Edmonton City Council acknowledged the importance of arts and heritage to the growth of our city. They directed the Edmonton Arts Council to come up with a cultural plan for Edmonton. The Arts Council created the 10-year Art of Living plan that included several recommendations to secure the future of arts and heritage in our city. One of those recommendations was for the City to work with Arts Habitat Association to use the arts to help revitalize neighbourhoods and develop community identity.
ArtsHab Alberta Avenue is Edmonton's first affordable housing co-op for artists. It includes 16 one-bedroom suites as well as ground floor commercial space occupied by the Nina Haggerty Centre for the Arts. The building is an innovative concept where an artists' co-operative manages the suites under a 50-year lease. The co-op reviews and approves applications from prospective members, (co-op criteria info here) who then pay membership fees and rent. Rents are set at no more than 85 per cent of average market rents as determined by the Canada Mortgage and Housing Corporation.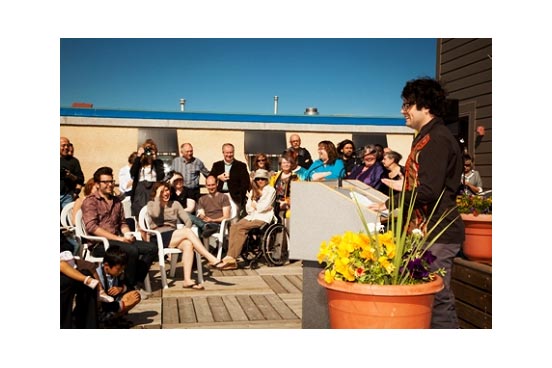 ArtsHab Resident and Co-op member Garett Spellicsy describes life in the co-op.