Say Goodbye to Tennis Club and Welcome to Black Girl Magic
The Inaugural Artist Studio Residency at McLuhan House is coming to a close at the end of the month. Since June 1, 2016, Tennis Club, a collective featuring emerging artists Alyson Davies, Megan Gnanasihamany, Morgan Melenka, Renée Perrott, and Marie Winters, have been working in a variety of contemporary modes exploring themes of femininity, sport, and class through performed identities.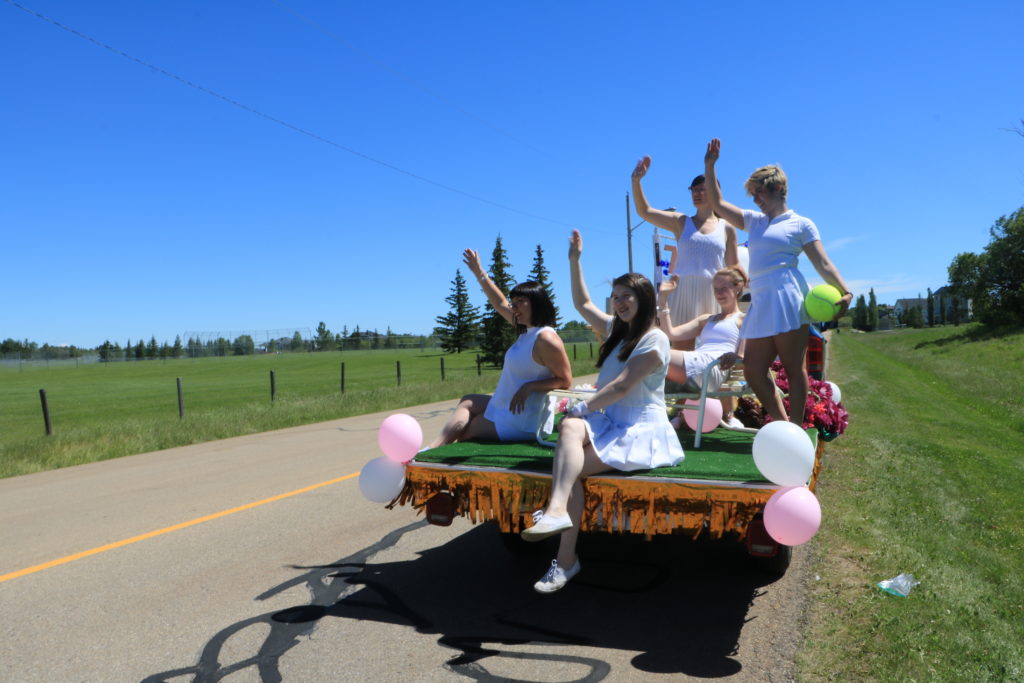 During Tennis Club's time at McLuhan House, projects have included a multi-town provincial parade tour, collaborative bookmaking, and celebration of papier-mâché. For their final project, they will be creating a mural on the McLuhan House Studio wall (11342 64 St NW, back alley) dedicated to Elsie McLuhan, orator, actress and Mother of Marshall McLuhan. The mural will be painted May 17 – 21, all are welcome to visit during the project.
"Equipped with matching outfits, tennis racquets and the veneer of authority brought about by positioning themselves as a team, the emerging collective is always ready to tackle the complexities of suburban Edmonton's attitudes towards sport, gender and leisure." – Canadian Art Magazine
Arts Habitat Edmonton is pleased to announce new studio residents, art collective Black Girl Magic, which will take possession June 1 until May 2018. Black Girl Magic (BGM) is a new collective featuring Nasra Adem, Ashanti "Karimah" Marshall, Medgine Mathurin, Mpoe Mogale, and Shima "Dwennimmen" Robinson whose goal is to investigate, highlight and celebrate the experiences of Black women in Edmonton through visual art, fashion, spoken word poetry, music, dance and theatre.
This collective has performed at Black Arts Matter; Edmonton's first all Black arts festival and SkirtsAFire; Edmonton's multidisciplinary festival celebrating voices of women. BGM proposes to use the space to workshop, improvise, train, and share space for collaboration as we build on our touring show "A Seat at the Table". A Seat at the Table explores the socio/spiritual/emotional labour Black women endure on a daily basis while celebrating the unwavering commitment to sisterhood, as the show centres itself around Black female communion and conversation.
We're well aware, adequate representation for women of colour in the arts is not a reality in our social spheres. Black Girl Magic aims to place the resilience and specific magic of Black women at the forefront of our artistic consciousness as Edmontonians and welcome the greater Edmonton community into the intimate experiences of Black women and women of colour. As past curator for NiteClubs at NextFest, curator for Black Arts Matter produced by Workshop West Playwrights' Theatre, director for Sister 2 Sister: an artistic collective and support network for/by femmes of colour and as Youth Poet Laureate, I have worked to bring artists and non-artists together for close to 4 years. It excites me to use the platforms I've created to celebrate local artistry, history and truth. Our artists have collectively performed at hundreds of events across Edmonton, Alberta, Canada and North America.
Below are biographies of the women involved in the collective as it stands.
Shima Robinson: "Dwennimmen"
Dwennimmen is black woman of Jamaican decent (1st Generation) living in Amiskwaciwâskahikan (Edmonton – Treaty 6) and adapting to the ramifications of that and other aspects of my social location through the art of spoken word poetry. I have recently DIY published a book titled "HORN" which is an account of my life through the lens of my poetic sensibilities. I will draw pieces from this larger work to create a series of vingettes on mental health and illness from my lived experience and idiosyncratic perspective.
Ashanti "Karimah" Marshall
Karimah is a progressive afropunk songstress from Edmonton, AB. Through her participation and subsequent win at 2014 western canadian french singer/songwriting competition, Chant'Ouest, she has established her vocal and songwriting point of view in both English and French communities across Canada. Call her style "noir future R&B". Karimah audio creations are an outlet for her most cathartic expressions of love, hate, failures and wins. She doesn't play it safe, and she's got the stories to prove it. This is exposure of the personal and political. Whether it's with a guitar, piano, or eclectic self-produced backtracks, each performance is a passionate, bittersweet encounter.
Mpoe Mogale
At the age of 16, Mpoe received the opportunity to train at a dance studio through a scholarship. Her journey started at the Edmonton School of Ballet where her love of ballet grew and carried out to other forms of dance such as contemporary and jazz. Wanting to become a well-rounded dancer, Mpoe started dancing at the Kore Dance Studio and training in Hip-Hop. These experiences led to Mpoe being accepted into Motives Dance Company, a pre-professional contemporary dance company that is pushing Mpoe to become a stronger and smarter dancer. Besides performing at competitions, Mpoe has performed for various events, most recently as a Lobbyist in the Chinook Series, Elevate Aviation's annual Launch Party, Edmonton's Youth Day event, and events put on by the UofA's African Student Association. Mpoe loves dance because it allows her to express herself in a unique and honest way, and she has met and fallen in love with so many beautiful humans through dance.
Medgine Mathurin
Haitian-born poet, psalmist and spoken word artist Medgine Mathurin is a person for whom the love of language and the alchemy of words is second nature. Her multi-lingual upbringing (french, creole, english) not only prompted her to begin experimenting with the potential and magic of language, but naturally compelled her into a deep love of poetry. Medgine Mathurin has shared her work across Canada and has had the pleasure of performing in Trinidad. She has represented Edmonton at the Canadian Festival of Spoken Word and has been a featured performer at the prestigious Edmonton Poetry Festival. She is one of the editors of the nationally-distributed From The Root Zine, which explores matters of identity, consciousness and resilience from the perspective of black womanhood.
Nasra Adem is a 23 year old queer, Muslim, multidisciplinary artist, community organizer and activist. She is the current Youth Poet Laureate of Edmonton and curator of Sister 2 Sister: an artist collective for/by femmes of colour and Black Arts Matter-Alberta's first all Black arts festival. Nasra is passionate about using art to disrupt, protect, educate, inspire and build forward moving Love within her communities.