First Wednesday of February
Huge thanks to everyone who attended First Wednesday in January with Karen Unland!
McLuhan House Centre for Art and Ideas
11342 64 St, Edmonton-amiskwacíwâskahikan
February 1st, 2017
Come to McLuhan House Centre for Art and Ideas for First Wednesday from 5 p.m.! Join artists, researchers, and community members who are continuing Dr Marshall McLuhan's legacy of probing the theory and application of media in the global village.
Program Schedule
McLuhan History Talk with Stuart MacKay
5 p.m. – 6 p.m.
McLuhan's Cousin Stuart MacKay—librarian, genealogist and local historian—explores Marshall's Irish Canadian ancestry through the Family Portrait Gallery and discusses writings by Dr McLuhan.
A discussion will take place to investigate the following terms, names and places to discover their connections: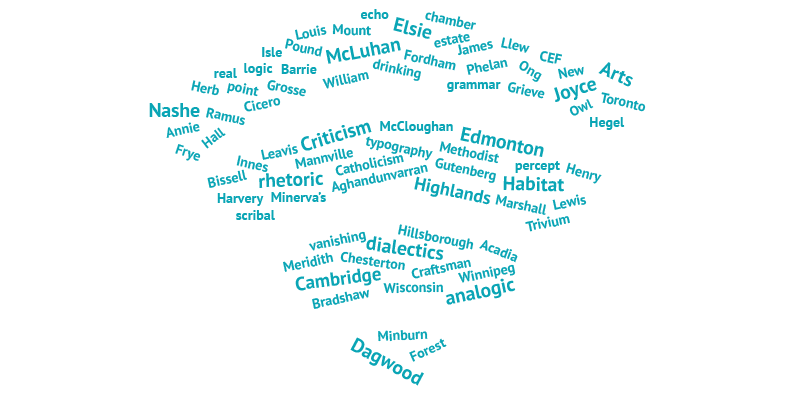 Open Studio with Tennis Club
6 p.m. – 7 p.m.
Join Artists-in-Residence at McLuhan House in their workshop for a tie-dying project!
Also, hear about the club's parade float, upcoming publication, and mural project of Elsie McLuhan, in development for the overhead door behind the studio. yegtennisclub.com
Probing New Media Seminar 4
7 p.m. – 8 p.m.
You're invited to participate in a discussion with guest artist April Dean on the topic of Printmaking in the 21st Century hosted by Dr Marco Adria, McLuhan scholar and Professor Emeritus at Centre for Public Involvement, University of Alberta.
Please register on Eventbrite
Are you a printmaker? Or are you an artist who sometimes makes prints? Is there a difference? And what is the difference between a fine art print and a photocopy? I have had to earnestly answer this last question more than once, so I have multiple answers.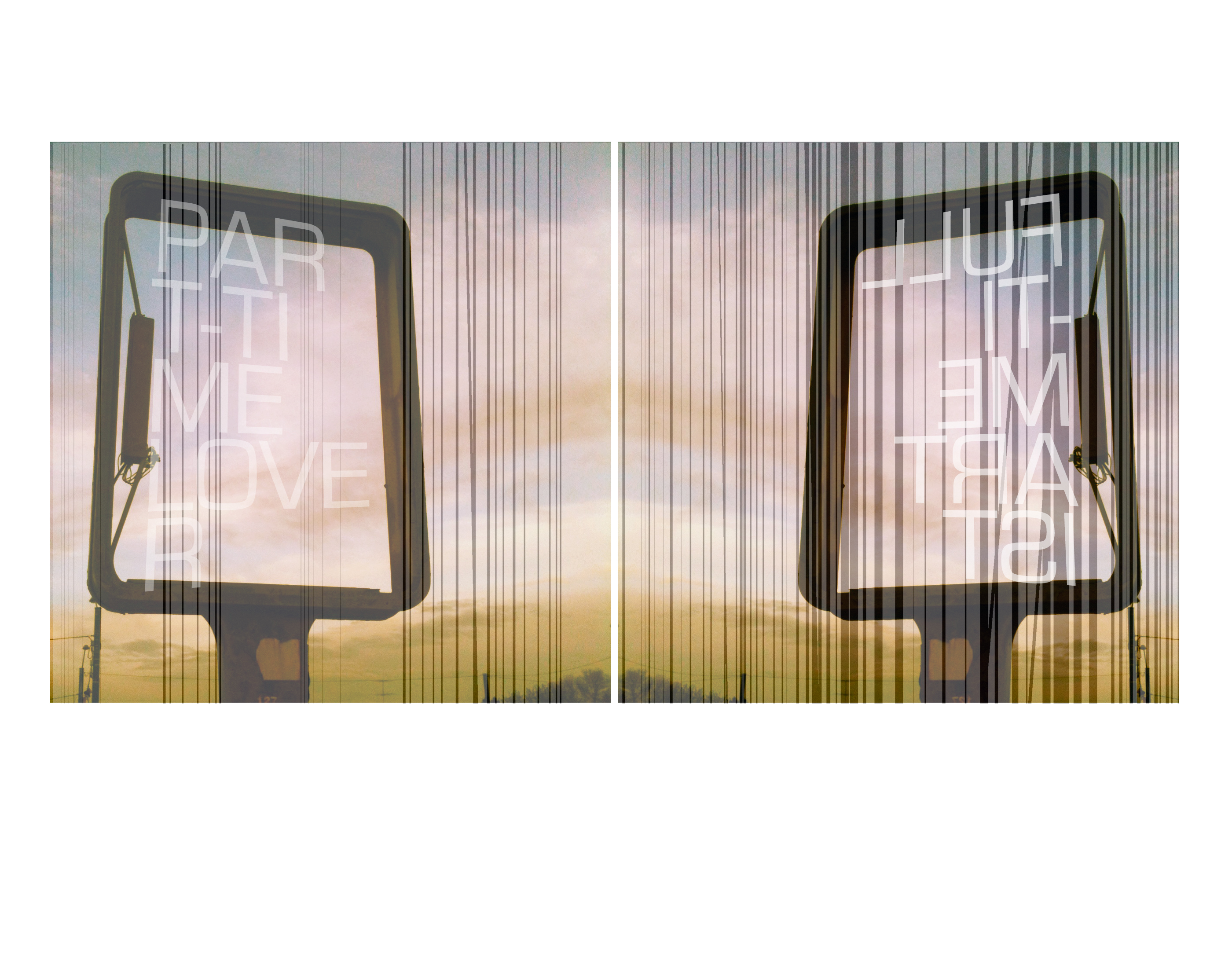 Image: April Dean. Part Time / Full Time. Inkjet & Silkscreen print. 2016
The art of printmaking has ALWAYS progressed, or moved tangentially, along with advancements or changes in industry and technology. As an artist I am trained in the art of printmaking, I make original works of art through various processes of transferring ink onto paper, often in multiples or through repeatable means, from a matrix, often that matrix is made from zeros and ones and stored inside a computer. Yet the word Giclée will forever cause my skin to crawl and my gag reflex to flex just slightly. There is nothing wrong with the word, it was adopted by printmakers making fine art limited editions in the early 90s with inkjet printers, but for me it always brings to mind an image of a reproduction of an already existing work of art spewed forth from a machine onto plastic canvas and pretending to be or taking the place of art, when really it is just a (re)representation of art.
Biography: April Dean is a visual artist living and working in Edmonton, Alberta. She has a diploma in photography from NAIT, a Bachelor of Arts Degree with distinction from The University of Alberta with a major in Art & Design and a Master of Fine Arts Degree in Fine & Media Arts from NSCAD University in Halifax, Nova Scotia. Her graduate thesis research was funded by the Social Sciences and Humanities Research Council of Canada (SSHRC). Her creative practice incorporates all forms of print and print related media, video, installation and text-based expressions. In 2016 she was awarded the PACE Mayors' Award for Excellence in Arts Management, her first public art commission from the Edmonton Arts Council and was named one of Edmonton's top 40 under 40 by Avenue Magazine. She is a sessional instructor in Art & Design at The University of Alberta and is the Executive Director of the Society of Northern Alberta Print-Artists (SNAP), a non-profit & artist-run centre in Edmonton, Alberta. aprildeanart.com
We acknowledge that McLuhan House is situated on traditional meeting ground for many Indigenous peoples. In gathering here, we respect the history, languages, and cultures of the Cree, Dene, Anishinaabe, Blackfoot, and Nakota Sioux First Nations, Inuit and Métis, whose presence continues to enrich our community.
We ask everyone who attends to contribute to a safe, inclusive environment ∞ Show respect toward each other and the space∞ Listen well and do not interrupt ∞ Support each individual ∞ Keep an open mind to others and their perspectives ∞ Validate one another's feelings and experiences ∞ Encourage empathy and consideration ∞ Refrain from judgement ∞ Cohere to people's chosen pronouns and identities ∞ Be accountable for your words and actions. Thank you!
This event will be recorded for archival purposes. You will be asked to sign an image and audio release waiver if you attend.
McLuhan House is open to all and free to attend. The house is not currently wheelchair accessible, however, the rear door is recommended for people with limited mobility. Parking is available at the back.
Nearest Bus Routes: 2, 8, 141, 142