Inaugural Residency Announced at McLuhan House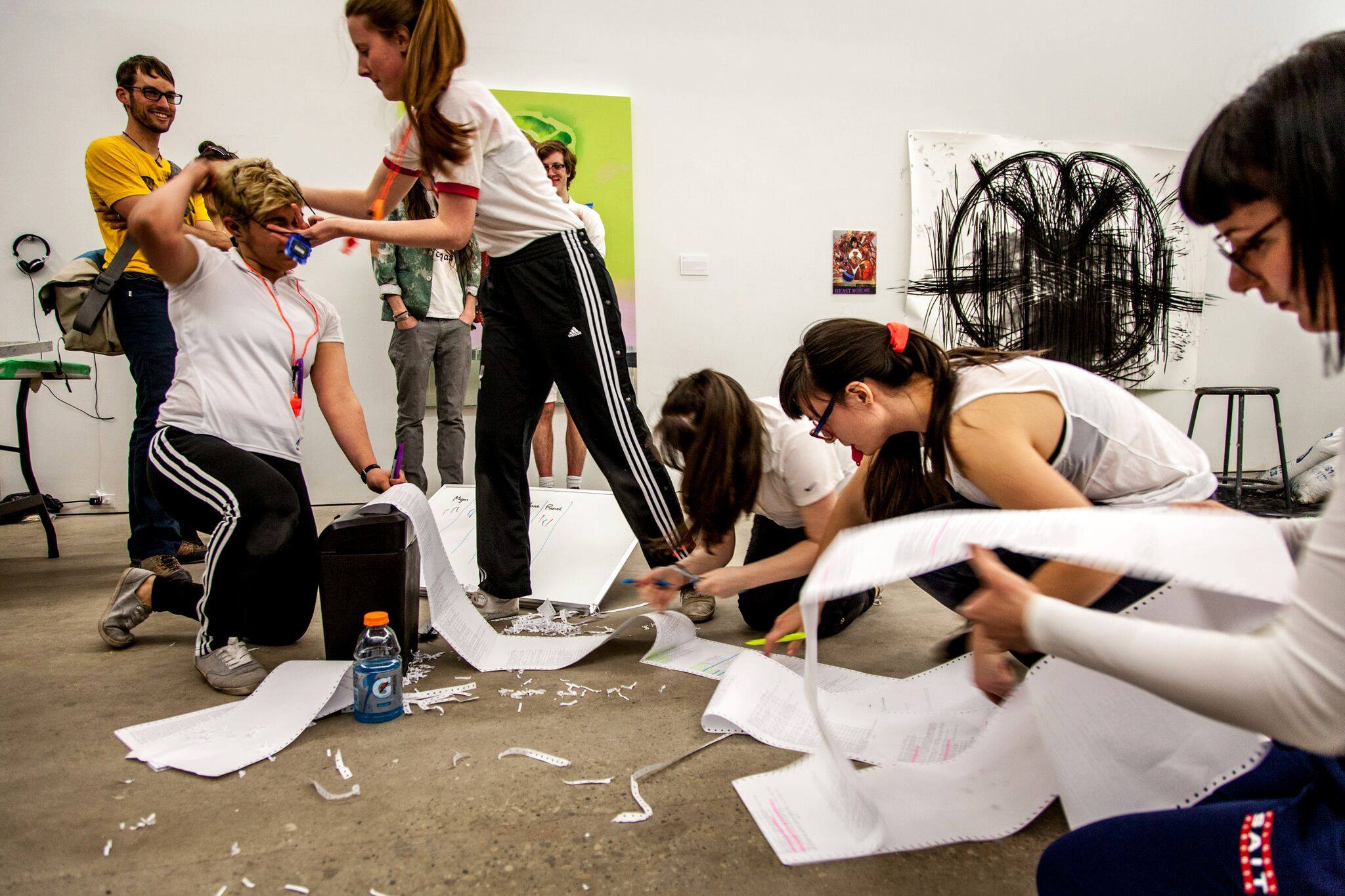 Tennis Club. Redacted. 2016. Performance. Between, Among, and Away at DC3 Projects. Photo by Michael JH Woolly.
Arts Habitat hosts Tennis Club collective in the first year of McLuhan House Artist Studio Residency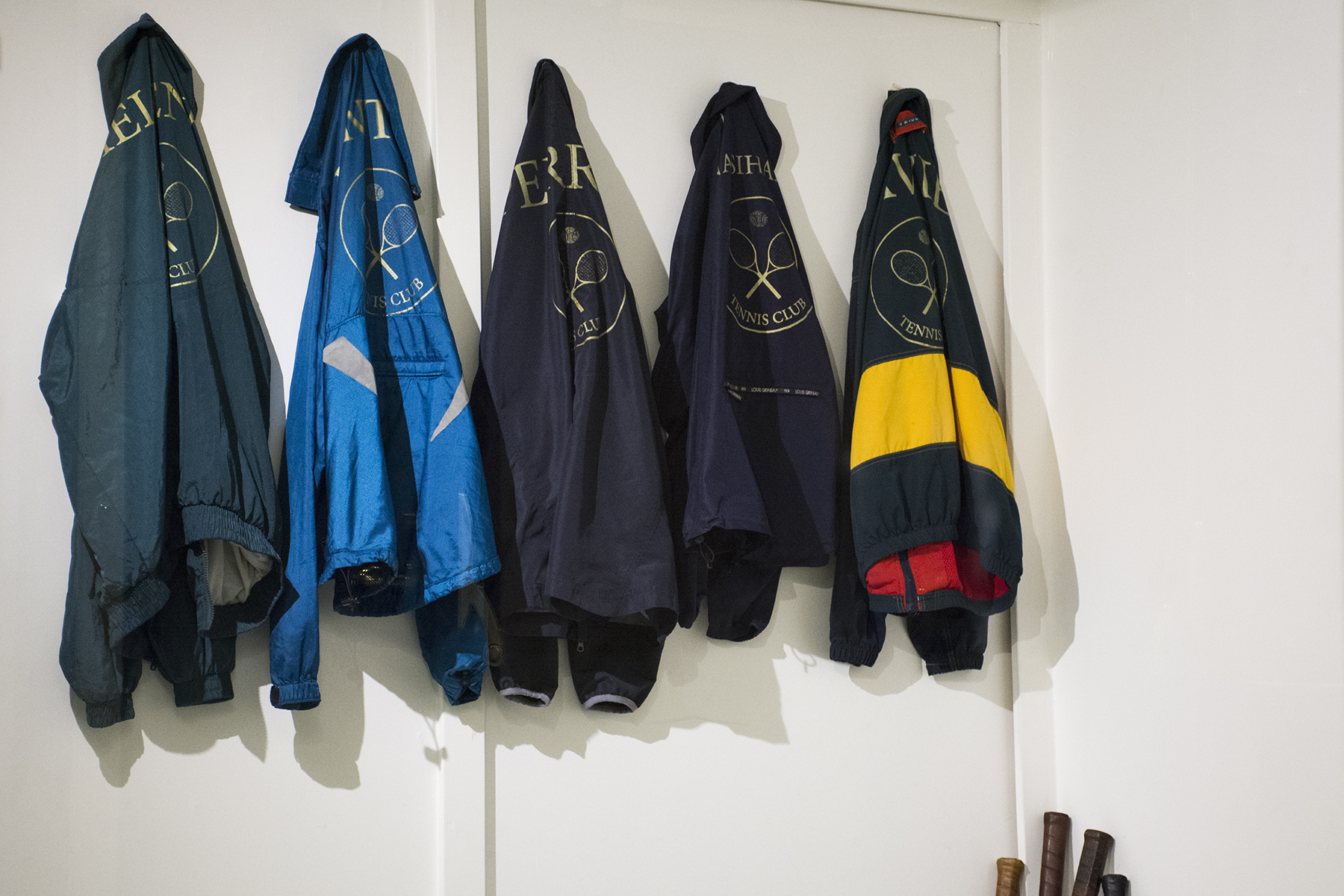 Hall of Fame. 2016. Mixed Media. Stride Gallery. Calgary. Photo by Jordan Schinkel
Dressed in athletic wear–replete with personalized silkscreened windbreakers–one might not recognize at first that Tennis Club is an artist collective. What is that, you say? This group of emerging female artists–Alyson Davies, Megan Gnanasihamany, Marie Winters, Morgan Melenka and Renée Perrott–collaborate in a variety of contemporary modes to address ideas of femininity, sport, and class through performed identities. All founding members graduated from the University of Alberta between 2014 and 2015 with a Bachelor of Fine Arts. In the fall of 2014, Morgan and Renée joined Ficus, a shared workplace for artists and craftspeople, followed soon after by the remaining members in February of 2015.
Their latest work titled Hall of Fame is currently on exhibition in Stride Gallery's +15 Window in Downtown Calgary at Arts Commons until the end of May. The work combines text and sculpture to create a playful satire about competition and success in a regional context.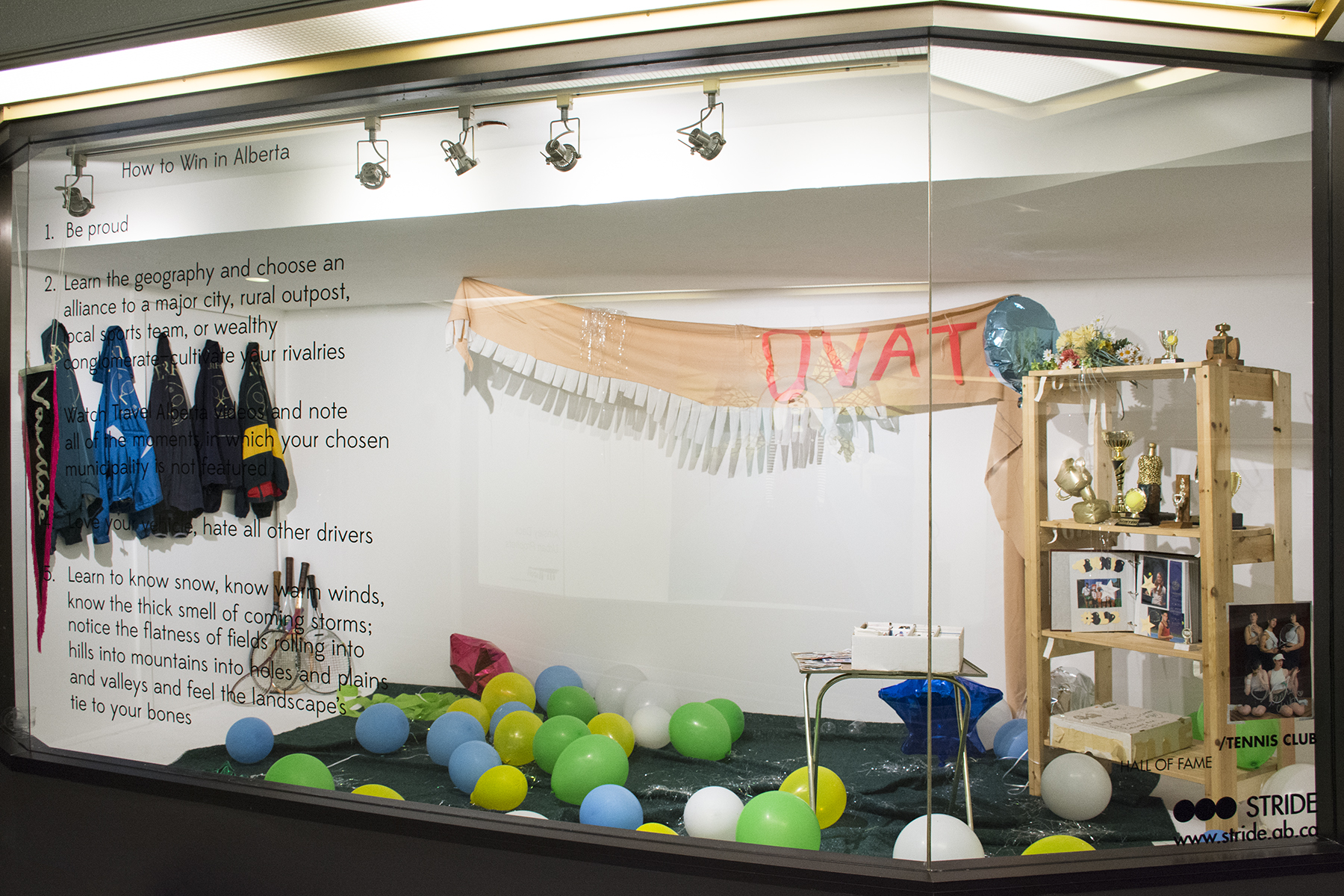 Hall of Fame. 2016. Mixed Media. Stride Gallery. Calgary. Photo by Jordan Schinkel
"Tennis Club is so grateful for the opportunities we have been offered, and can't wait to become a part of the Highlands community as the McLuhan House artists in residence!"
Tennis Club is planning to use McLuhan House Artist Studio Residency to create a new performance and intermedia artwork called For god's sake Kate, where is the camera? A travelling parade float adapted from a flatbed trailer, will feature outdoor lounge furniture, sports paraphernalia, and copious numbers of handcrafted flowers. This summer, Tennis Club members may be seen passing out homemade zines and candies to the crowds in quintessential Albertan parades such as Ardrossan, Drumheller, and more destinations to be announced soon on their Pan-Alberta Tour!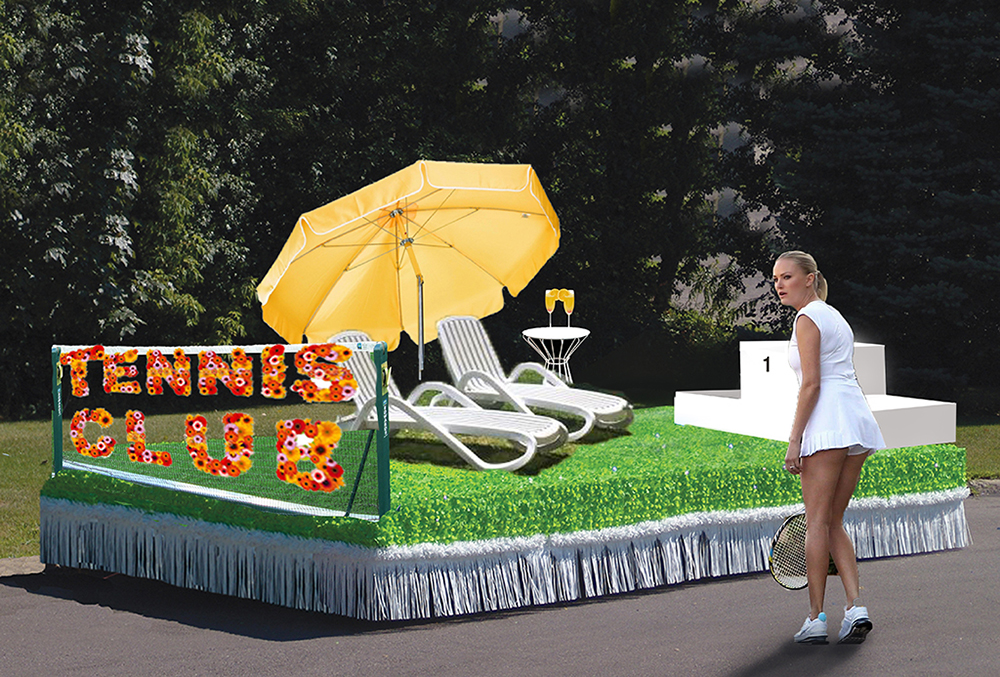 For God's Sake Kate, Where Is The Camera? 2016. Digital Rendering.
ARTIST BIOGRAPHIES
Tennis Club was founded in January 2014 while living in the Capital Region and studying Fine Art at University of Alberta. The collective found its calling as a metaphorical sports team and since then have enjoyed studio space at Ficus Studios while entering into new projects and adventures within Edmonton. The members of Tennis Club are five young women, not unlike the Spice Girls, united by a common goal of exploring and engaging with arts and cultural practices including sexuality, leisure, and performativity. The Club's self-made jurisdiction ranges from Edmonton's booming metropolis to the abundant Albertan countryside. As Edmonton's newest sports sensation, Tennis Club aims to build on localised fame as we support each other in our collective and individual practices.
The name Tennis Club originated from a desire to address our own privilege as five cisgender, white passing, able-bodied, young women with the ability to pursue an arts education in Canada. Tennis, with its air of exclusivity and penchant for all white outfits, let us create parodic self-representations that engage with and satirize our own levels of privilege, allowing us to better examine intersectional ramifications of our collective projects as well as local initiatives that affect the arts community.
ALYSON DAVIES
Beyond an incredibly vibrant backhand swing, Alyson's fans know her as the one who knows it. Alyson grew up playing tennis on Wii Sports. She mastered avatar building at 14, and is often seen sporting 'anime eyes in black'. Her fan site states,
"Alyson's pink velour is so cool, it even matches her hair and face."*
Alyson's claim to fame was when she knocked out the Fort Saskatchewan Sting team in the fall of 2012 from going to the Elk Island Round Robin. She sends her deep regards to the City of Fort Saskatchewan and will be making a formal apology in September 2015.
Alyson's motto is "yeah, sure, okay" and you can read about her in full on her website www.alysondavies.com. *Alyson will have no physical contact with fans, all communication must be done through social media. Except facebook, she is so over facebook.
MARIE WINTERS
Miss Winters lives in the Southside of Edmonton and actively avoids stereotypes of her own socioeconomic status. She hopes to be a trophy wife one day and tennis is just a pastime. Her tennis coach Fabio Fognini (Italian pronunciation: [ˈfaːbjo foɲˈɲiːni] exclaims that "Marie has the best form of all [his] students, and it is a pleasure to tutor her". Her other endeavours can be found on her website www.mariewinters.com
MEGAN GNANASIHAMANY
Megan's Tennis Club membership was granted to her after club members witnessed her finesse and grace under pressure as she exacted crushing defeats upon her opponents during the 2013 Wilderness State Invitational. Megan lives by the old adage, "if you're not first, you're last" – a philosophy she credits with earning her the bag of medals she keeps in the closet. She is photogenic, witty, and enamoured with the idea of her own athleticism. "Megan's leadership on and off the court is a credit to Tennis Club. She is a fan favourite and a true delight."
To learn fractionally more about Megan, visit her website at www.megangnanasihamany.com
MORGAN MELENKA
Morgan is tough as nails on and off the court. With a fiery temper and propensity to swear, she is the sole member to be repeatedly removed from matches. She is still apologetic for the incident at YEG 2015 Women's Doubles. Her advocacy for judicial reforms within the sport have fallen on deaf ears and has given her a hardened and cynical perspective of tennis. However, her shot does not err and she has made concerted efforts to subdue her temper. She now can be seen on the court taking flower-smelling and sky-appreciation breaks. She is currently enrolled in a seminar on how to love the sport despite its flaws. Her activities outside of fighting the (tennis) Man can be found at www.morganmelenka.com
RENÉE PERROTT
For most of her life, Renée has devoted 100% of her energy to perfecting whatever it is that she is doing at the time – also known as her sport. Through the years of commendable personal sacrifice in the name of competition, Renée has accumulated a solid base of die-hard, serious fans who consistently send her congratulatory offerings through Canada Post. Her fans are the only ones who truly understand her. To discover more about your fascination with this local star visit www.reneeperrott.com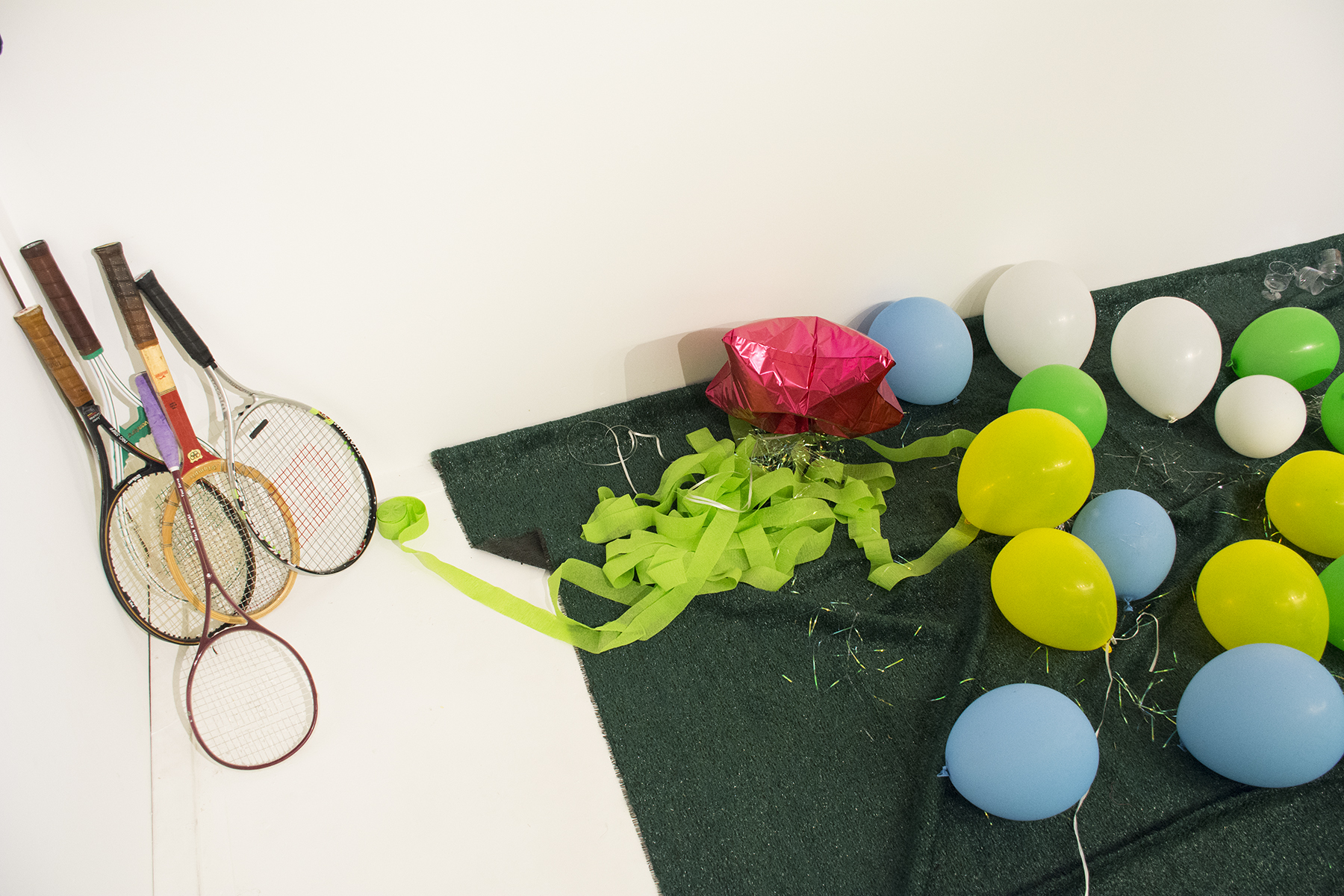 Hall of Fame. 2016. Mixed Media. Stride Gallery. Calgary. Photo by Jordan Schinkel