Check it out! The Sugar Foot Ballroom has rehearsal space!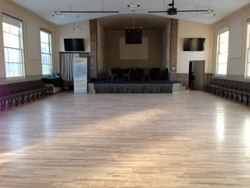 The Sugar Foot Ballroom
10545-81 Avenue, Edmonton, Alberta, Canada
Our ballroom is no ordinary place. It's an old church that has been converted into a dance venue. Upon entering the space, you'll be struck by the large open auditorium, towering windows providing natural light, roomy stage, and of most importantly, our sprung hardwood dance floor.
The dance floor is a beautiful character-grade pure maple hardwood floor, and it is indeed fully sprung! Structurally, the subfloor is built with a basket-weave matrix of 1×2′s and OSB, making it a floating floor, with the hardwood laid on top. Having a fully sprung floor is a rarity in Edmonton, but it's a thing of beauty worth investing in.
As you've probably noticed, we are well located just one block off Whyte Avenue and Calgary Trail. This centrally-located spot is an easy place to reach by transit, bicycle, and vehicle. The venue also has parking in its lot as well as street parking.
The space is available for both rehearsal bookings and rentals. We offer artist-friendly rehearsal rates (with caveats) for people not earning revenue directly by using the space and private lessons, and standard rental rates for the public. This could be for artists wanting to put on shows, or host a class, workshop, or concerts. It may also be used for any sort of public gathering. The space tends to be most available during the day until 6pm, and various timeslots on Saturdays and Sundays.
For pictures, rates, and further information, please see our live online document regarding bookings
Or contact me:
Birkley Wisniewski
Director, Sugar Swing
www.sugarswing.com
birkley@sugarswing.com
780.604.7572