ArtsHab Studio Gallery Presents: Material Functions: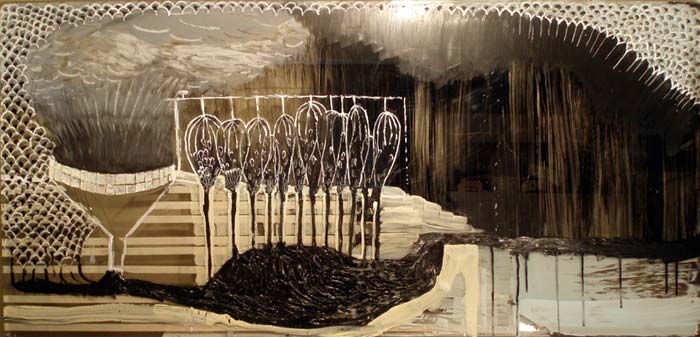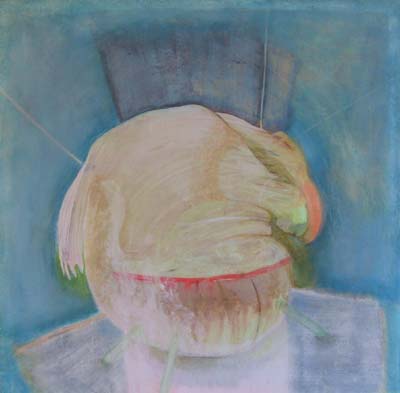 Material Functions
Paintings by Josée Aubin Ouellette and Mandy Espezel
April 3rd to May 5th 2008
Opening Reception: April 3rd. 7 p.m. to midinght. Artists will be in attendance
Viewing times: Thursday evenings from 5:00 p.m. to 8:00 p.m. or by appointment
Call Tim Rechner at 423-2966 or Jeff Collins at 439-9532
Josée Aubin Ouellette and Mandy Espezel create literal forms out of formalist ideas. They are interested in creating images that function as a reality of their own as well as playing the literal character of paint. They both work to invest the material form of paint with meaning:
Espezel builds images that represent interactions and responses of individuals to their environments. Her paintings are developed through a process of automatic mark making and formal experimentation. Aubin Ouellette creates imaginary ecological illustrations that function as visual systems. In this series, paint is used in loose reference to the states of oil in the production process, playing with the image's relationship to scientific reality.
and
New Works by ArtsHab Residents
Showing alongside Material Functions will be new works by current ArtsHab studio renters including Jeff Collins, Roger Garcia, Gina Shields, Lynn Malin, Tessa Nunn, Harold Pearse, Tim Rechner, Jenna Stanton, and Arlene Wasylynchuk. ArtsHab is happy to welcome three new artists into the community – Darren Woluschuck, Jason Muirhead and Erika Ampudia.
ArtsHab Studio Gallery is a community of contemporary artists living and working in downtown Edmonton. ArtsHab offers a unique opportunity for art lovers to come out and meet these working artists in their homes and studios.
ArtsHab Studio Gallery is located at 10217 – 106 Street on the 3rd floor.
The Gallery is open every Thursday from 5pm to 8pm, or by appointment.
Contact Tim at 423 – 2966 or Jeff at 439-9532
email: Jeff Collins
Images:
Top: Reverse Rain Machine by Josée Aubin Ouellette,
acrylic, masking tape, ink and wax on acrylic panel 22 by 46 inches.
Bottom: Heavy Dance by Mandy Espezel, Oil on board, 24×24′