In Memoriam: Arlene Claudia Wasylynchuk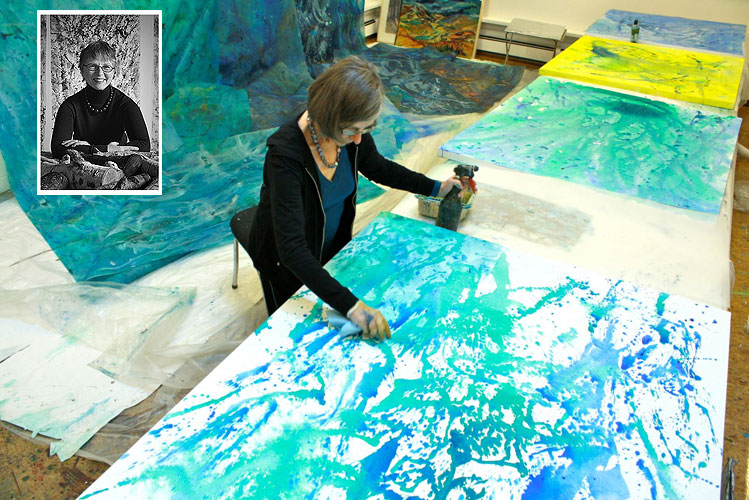 Arlene Claudia Wasylynchuk
September 15, 1947 – September 27, 2012
It is with deep sadness that all of us at ArtsHab have to say goodbye to one of our own. On September 27, 2012 Arlene Waslynchuk passed away surrounded by her loving family.
Arlene was one of the founding studio tenants of ArtsHab One. In 1999 Arlene, Lynn Malin, Elizabeth Beauchamp and Gloria Mok were the first tenants of studio 311. While Elizabeth and Gloria have moved on, Arlene, Lynn and now Harold Pearse have worked daily in the studio since that time.
Arlene's presence in the studio, her work ethic and passion for her art has been immensely inspiring to the many artists who have passed through the doors of ArtsHab One. Every week of every month, Monday through Friday, Arlene could be found working away in her studio developing her paintings and drawings. She was always welcoming to everyone who wanted to come by and see what she was up to and she always had encouraging words and positive comments to say about the work of others here at ArtsHab One.
In the last couple of years Arlene worked tirelessly on her beautiful installation Saltus Illuminati, that was created specifically for the RBC New Works Gallery at the Art Gallery of Alberta. The work was received with much critical acclaim.
We will miss you deeply Arlene and we thank you for the love you always gave to everyone here at ArtsHab.
A celebration of Arlene's life will be held on November 5, 2012 from 2-4 pm at the Art Gallery of Alberta. In lieu of flowers, donations can be made in memory of Arlene to Pancreatic Cancer Canada or the Canadian Cancer Society at 1-800-661-2262.