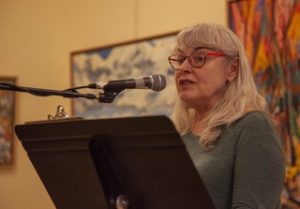 Shirley Serviss's background in broadcasting, journalism and public relations, and considerable experience writing and editing as a freelancer is a welcome addition to the Arts Habitat Board. Her experience working on various boards is vast with time spent on the Edmonton Arts Council, Edmonton Poetry Festival Society, Writers Guild of Alberta, the Alberta Branch of the Canadian Authors Association, condo, and community league boards.
Shirley is passionate about ensuring senior artists who live on limited funds without a company or government pension have housing where they can continue to be engaged with the arts community. She has spent the last ten years working to provide affordable live/work spaces for artists of all ages and genres on the boards of both the Artists Urban Village and Artists Quarters.
Shirley has devoted numerous hours to the Edmonton Arts community as a volunteer, donating her time at the Folk Festival, Jazz Festival, Fringe, Poetry Festival, and Lit Fest. She also attends theatre productions, readings, and visual art shows and believes strongly in the value of the arts not only to her own life but to our society as well.
Seeing the difference arts programming makes to the staff, visitors, and patients of the University Hospital encourages Shirley to be a stronger advocate for the arts. She has gained insight into the needs of artists from working on the Artists Quarters project as well as her contact with visual artists and musicians in the Artists on the Wards program of the Friends of University Hospitals. Her listening skills, logical and open mind, and patience are all attributes well suited to the Arts Habitat board.