Deadline to Apply: August 30th, 2020 at midnight.
Submissions are now closed. Thank you to all who applied. The new studio resident will be announced before October 1st, 2020.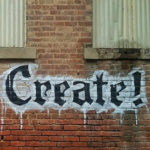 Arts Habitat is a non-profit organization engaged in finding, managing and developing space for the arts and is offering a Free Space Studio Residency again this year. This project has been in place since 2016 and has hosted both individual artists and groups. Past recipients have used this space to strengthen their practice. The space is part of the McLuhan property and located in the beautiful community of Highlands in Edmonton.
This opportunity offers an artist or artist group private access to a 540 square foot garage studio space to work on their project or practice. This program aims to offer space and time for the advancement of your career and is offered at no cost to the artist.
Individual artists and collaborative teams in all disciplines are encouraged to submit a self-directed proposal for the workspace. Emphasis is placed on finding an artist or artists with a strong project proposal and good potential to succeed in producing artwork in the available space/time. Demonstrated history of self-directed creation and presentation is required. A minimum of 2 exhibitions or open houses to showcase your work throughout the term of the residency is supported. These events or open houses are at the discretion of the artist or group and will be promoted by Arts Habitat.
Please visit our about page at Arts Habitat Edmonton and the McLuhan House for more information.
---
Studio Residency Space Specifications
The space is raw and the resident can make it their own. The artist or artist group will have private access to a 540 square foot garage studio space with
Overhead garage door
Cupboards
Workbench
Radiant heater
The shop has no running water, however, the Studio Resident has access to McLuhan House's basement utility sink, main floor kitchen and washroom facilities only.
Minor alterations to space are allowed with permission.
Noise limitations are in effect between 11 pm and 9 am.
The use of the studio space includes free utilities.
Artist fees, materials and supplies are NOT provided by Arts Habitat.
The studio is barrier-free and accessible at grade, however, McLuhan House is not wheelchair accessible at this time.
This is NOT a live-in residency nor will the artist or group be compensated in any other way than free studio space.
---
Floorplan of Garage Studio Residency
Submission and Selection Committee Process
Individual artists and collaborative teams in all disciplines are encouraged to submit a self-directed proposal for the Self Directed Studio Residency that will begin October 1st, 2020 and last for one year to September 30th, 2021. Arts Habitat is seeking submissions from local artists from varying backgrounds including, but not limited to visual art, craft, curatorial practice, dance, design, new media, performance, photography, sculpture, sound, video, and writing.
A community jury will evaluate all submissions, with the successful application being drawn by lottery. Emphasis will be placed on finding an artist or group with
a creative track record
the willingness to explore new ideas
self-direct their time
cultivate new directions in their work
with the potential to succeed in accomplishing their desired work in the available space/time
be engaged with the community.
Arts Habitat Edmonton is committed to equity in all aspects of its work and invites proposals from all potentially interested artists. All participants must be 18 years of age or older to participate.