First Wednesday of March
The medium is the message
— Marshall McLuhan. Understanding Media. 1964.
Open from 5 pm to 8 pm, March 1st, 2017
McLuhan House, Centre for Art and Ideas
11342 64 St, Edmonton – amiskwacíwâskahikan
In the spirit of Marshall McLuhan, Arts Habitat gathers the community for a monthly event series at the intersection of culture, technology, art, social history, new media, and communications theory. McLuhan House hosts open studio, workshops, happenings and talks First Wednesday of each month. Join artists, researchers, and community members in probing the theory and application of technologies in the global village, building on the legacy of McLuhan's indomitable curiosity about media and communications.
Arts Habitat acknowledges that McLuhan House is situated on traditional meeting ground for many Indigenous peoples. In gathering here, we respect the history, languages, cultures and treaties of the Cree, Dene, Anishinaabe, Blackfoot, and Nakota Sioux First Nations, Inuit and Métis, whose presence continues to enrich our community.
We ask everyone who attends to contribute to a safe, inclusive environment ∞ Show respect toward each other and the space ∞ Listen well and do not interrupt ∞ Support each individual present ∞ Keep an open mind to others and their perspectives ∞ Validate one another's feelings and experiences ∞ Encourage empathy and consideration ∞ Refrain from judgement ∞ Cohere to people's chosen pronouns and identities ∞ Be accountable for your words and actions. Thank you!
Please register for discussion events by sending an email by Feb 28, 2017, or contact us get involved in upcoming programming.
Sorry, the building is not wheelchair accessible. People with limited mobility are recommended to use the back entrance with rear parking and five stairs. NEarest bus routes are 2, 8, 141, 142.
Contact:
Chelsea Boos, Community Programmer
Arts Habitat Edmonton
cboos@artshab.com
780 474 0907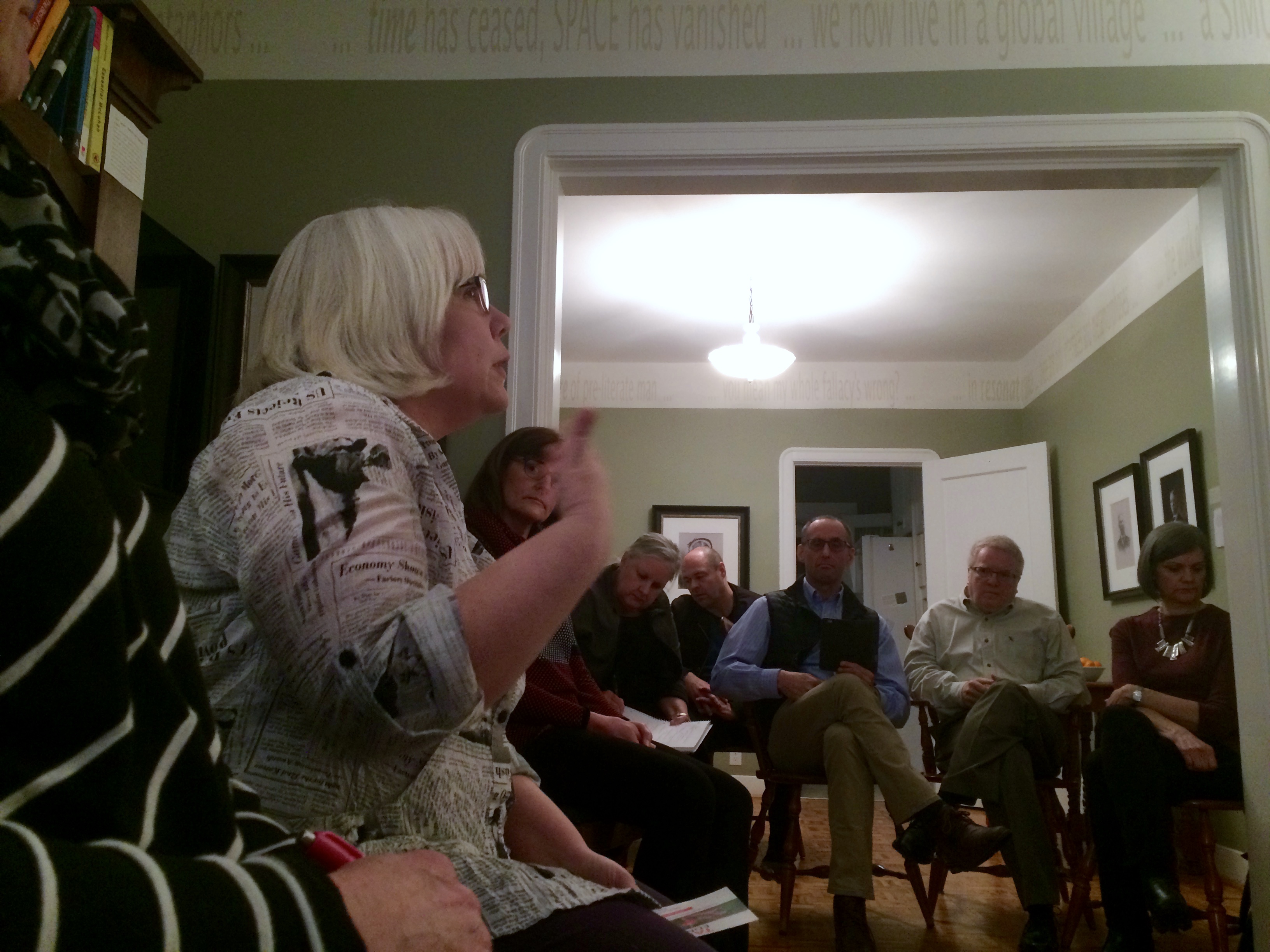 Karen Unland presenting on Taproot and open-source journalism in local context.
Program Schedule
McLuhan History Talk
5 p.m. – 6 p.m.
McLuhan Cousin, Stuart MacKay—librarian, genealogist and local historian—explores the family's ancestry through the McLuhan Portrait Gallery and discusses writings by Dr McLuhan.
A discussion will take place to investigate terms, names and places to discover their connections.
Open Studio by Tennis Club
6 p.m. – 7 p.m.
Join Artists-in-Residence at McLuhan House in their workshop for a hands-on project and talk about their projects under development.
Probing New Media Seminar Discussion No. 5
7 p.m. – 8 p.m.
You're invited to participate in an informal discussion with guest Jordan Kinder on the topic of Viral Memes and Social Media. Hosted by Dr. Marco Adria–McLuhan scholar and Professor Emeritus at Centre for Public Involvement at the University of Alberta–and joined by artists, researchers, and community members, this seminar series continues McLuhan's legacy of probing theory and application of media in the global village. Please join us to learn more about new media as part of ongoing exploration of McLuhan's link to Edmonton.
About:
Memes have been appropriated by the commercial advertising industry for several years, but only recently entered the political sphere. This talk will explore concepts of immaterial labour and communicative capitalism in relation to social media by focusing on the role of memes in shaping discourse in the recent American election. In doing so, I ultimately argue that we should take seriously the role of memes, and social media more broadly, as a productive site of social and political struggle today.
Biography
Jordan Kinder is an SSHRC Doctoral Fellow and PhD Candidate in the Department of English and Film Studies at the University of Alberta where he studies new and social media and the cultural politics of oil and energy in Canada.

Thanks to all our guests for attending and delving into Printmaking in the 21st Century with guest artist April Dean last month!