Discover Your Connection to the Cosmos of Comics
Turn out. Tune up. Drop into McLuhan House
The public is welcome to participate in a dynamic social and cultural event that draws people and ideas together.
New Media Seminar 10
September 6, from 6 p.m. to 9 p.m.
McLuhan House Centre for Art and Ideas (11342 – 64 st) Edmonton-amiskwacîy
You're invited to our social and cultural event! Build community and meet artists, researchers, and community members who are continuing Marshall McLuhan's legacy of probing new media in the global village! Please R.S.V.P.!
6 to 7 pm | Comics Through the Ages with McLuhan Literati
Stuart Mackay and Dr Marco Adria will host a talk on Comics at McLuhan House exploring some of McLuhan's position on comics, in particular, Dagwood Bumstead and Superman. We will hear McLuhan's controversial views on comics that prevented his attendance at Oxford. We will also learn about the classification of comics using the comic triangle developed by Scott McCloud in his book Understanding Comics and host a discussion of the history and evolution of comics from the Bayeux Tapestry to abstract modern comics.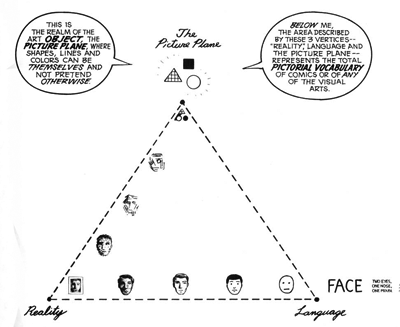 7 to 8 pm | Comics–More Than Meets The Eye with Jay Bardyla
Comics are everywhere today; film, TV, video games, and even on paper! The medium of comics is influencing most facets of the entertainment industry and capturing the interest of thousands of new and lapsed readers. Jay will ramble about a bunch of stuff but focus on the basic terminology to help you talk about and understand comics and then shamelessly promote the different programs at his shop that help develop new readers, draw back lapsed ones, and keep the long-time die-hards coming back!
Guest Bio Jay Bardyla is the founder and co-owner of Edmonton's largest and only award winning comic shop Happy Harbor Comics. For nearly 20 years, he's used the store to entertain and educate thousands, whether they want to be or not! Assisted by a passionate staff, they offer numerous programs to support teachers and librarians, teach and develop classes to advance people's skills, and host various events to inspire creativity and give back to the community. Jay's been reading and collecting comics for more than 35 years so, in theory, he knows stuff.
About the Program
First Wednesday offers opportunities to engage on different topics of importance to our future at the intersection of social history, art, communications, and technology. Building on the legacy of McLuhan's indomitable curiosity about media, the McLuhan link is celebrated through an ongoing partnership with Stuart MacKay—genealogist, historian and Marshall McLuhan's Cousin-once-removed—and Prof. Marco Adria, Professor Emeritus from the Masters of Arts in Communications and Technology program at University of Alberta. Adria is an advisor at the Centre for Public Involvement, and author of numerous books including Technology and Nationalism (2009), The lighted marketplace (2014) and Handbook of Research: Citizen Engagement and Public Participation in the Era of New Media (2017).
Questions? Contact us by email at events@artshab.com or by phone 780 474 0907.
Please feel free to share the Facebook event.
R.S.V.P. today to reserve your place!
About McLuhan House
In January 2016, McLuhan House opened as an interpretive space for Marshall McLuhan's life and legacy of ideas. It was designated a municipal historic resource and restored by Arts Habitat, with support from the City of Edmonton and Edmonton Arts Council. McLuhan was a famous Canadian professor, media critic and author who lived in Edmonton at the historic 1912 McLuhan Residence.
Arts Habitat acknowledges that McLuhan House is situated on Treaty 6 territory and pehonan (meeting place) for many Indigenous peoples. We respect Aboriginal history, languages, and cultures of the Cree, Nakota Sioux, Dene, Anishinaabe, and Siksika First Nations, Inuit, and Métis. We honour the Indigenous peoples and their ancestors, whose presence continues to enrich our community known in the Cree language as amiskwaciwâskahikan (Beaver Hills House).
All are welcome! Admission by donation. Light refreshments provided.
Parking is available at the back for people with limited mobility. Please note, the historic house is not wheelchair accessible. Nearest Bus Routes are 2, 8, 141, 142.
Participant Information
Seminar discussions are recorded for archival purposes. You may also find us on Periscope by visiting @madria40. Attendees and guardians of participants under 18 will be requested to sign an image and audio release form.
We honour everyone's right to actively participate in the discussion and endeavour to create space for wide representation across discipline, class, gender, race, sexual orientation, age and ability. Oppressive language or behaviour will not be tolerated.
We ask everyone who attends to: Contribute to a safer space • Show care for themselves and the place • Support each individual present • Keep an open mind to others and their perspectives • Listen well and do not interrupt • Validate one another's feelings and experiences • Encourage empathy and consideration • Refrain from judgement • Respect each other's pronouns and identities • Be accountable for your words and actions. Thank you for helping make McLuhan House an inclusive environment for all!
Seminars work the best when everyone is able to:
Play, Doodle, Draw, Have Fun!
Speak with their mind and heart;
Facilitate their self and others;
Link and connect ideas;
Contribute their thinking, and
Listen together for patterns, insights, and deeper connections.
Space is limited. Please reserve your free seat now!