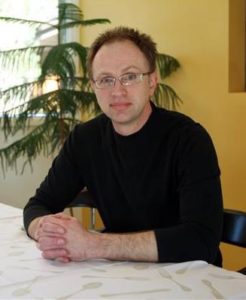 Encouraged by a fellow Arts Habitat Board member, Myron Nebozuk joined the board in May of 2017. He brings years of director experience from other great arts organizations and civic committees within Edmonton. He enjoys connecting people who are motivated and active in building a better city and that is evident in the work he has accomplished as an active member of the community. Myron brings the perspective of an architect to our board, creating a dialogue that assists us in better understanding the constraints we may encounter with our projects.
Myron prides himself on the ability to impartially review a spectrum of options and look for a creative course of action when the possibilities are slim, underfunded, or without precedent. That skill has been advantageous as Arts Habitat work towards realizing the dream of building thriving arts communities. The importance of creating social opportunities that allow for a sense of community to evolve greatly influences both the Board and Myron's life.
As a contributor to social purpose real estate and a courageous leader in on-going discussions in the pursuit of a creative ecology, Arts Habitat benefits from Myron's ease at accepting change and the solutions it can create. The board is engaged in the ongoing evolution of our organization to meet with the artistic community's needs and Myron anchors the board with functionality and rational suggestions.