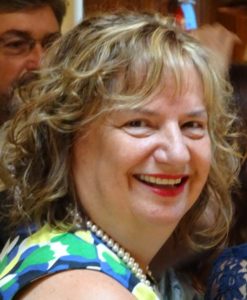 Catherine C. Cole was a board development instructor for Alberta Culture and Arts Habitat is excited to have her experience in facilitating numerous board development workshops and strategic planning, policy development, municipal cultural planning, and consultation processes throughout Canada and in some cases internationally on the board.
She feels that the Arts Habitat board is one where she can contribute her skills and networks while learning how a field related to culture, approaches the same issues she is working on. Catherine has been a consultant in the cultural/heritage sector for 25 years and is intrigued by the diversity of occupations and backgrounds of the Arts Habitat board members. She appreciates the different experiences and expertise and the potential to learn as well as to contribute.
Catherine has not only worked nationally and internationally; she also believes in the importance of maintaining a commitment to the local arts community as well. She has a son who is a musician, she is a writer, and also sat on the board of the Workshop West Theatre for ten years – three of which she served as the Chair.
Catherine is the Secretary-General of the Commonwealth Association of Museums and the Vice-Chair of ICOM CAMOC (the International Committee for the Collections and Activities of Museums of Cities). In both capacities, she is involved in international initiatives related to migration, urbanization, and regeneration. As a Past Chair and Alberta Governor for Canada's National Trust (then the Heritage Canada Foundation), she has worked on the adaptive re-use of heritage buildings and the economic impact of heritage. She appreciates that arts spaces are frequently in heritage buildings and recognized the intersection of arts and heritage as important.
As a Metis that works extensively in both Indigenous and culturally diverse communities, she is thrilled to bring her approach to inclusion and community engagement to the Arts Habitat board.